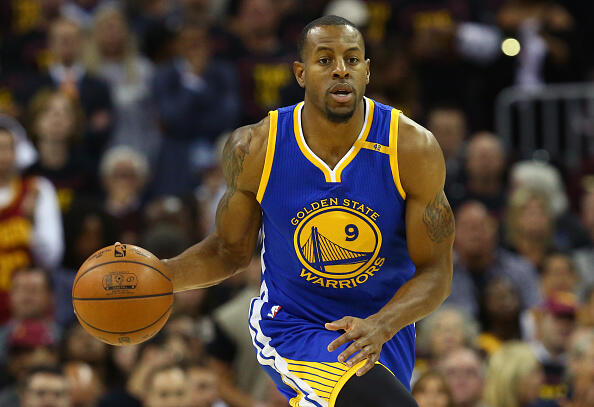 Warrior fans have another thing to look forward too! Andre Iguodala has teamed up with Cheddar to create a late night variety talk show which Andre will host, where they will have guest from sports, entertainment, tex and more, to sports, tec and more.
Fresh off winning a championship, Mr. Iguodala is teaming up with Cheddar, the startup founded by former BuzzFeed executive Jon Steinberg, to create a late-night-style variety show called "Evenings with Andre." It will feature interviews with guests from business, technology, sports and entertainment.

The two hope to sell the show to a premium TV network or streaming service like Netflixor Amazon, and split the proceeds. If no premium buyers emerge, Cheddar will broadcast it on Facebook , Twitter , and its own streaming platforms.

"You can assume we've talked to everybody, from the obvious Amazon and Netflix all the way down," Mr. Steinberg said. He said he hopes to have a deal sealed in the next few weeks.

Mr. Iguodala's business partner, Rudy Cline-Thomas, said he approached Cheddar for the partnership–rather than any number of big tech companies that are creating original programming, such as Facebook or Apple–because he had known Mr. Steinberg previously.

Cheddar, which offers live-streamed business news programming aimed at younger audiences, says it reaches more than 1 million live viewers daily on Twitter, Sling TV, Amazon, five broadcast stations, Pluto TV, Vimeo, Facebook, and its own apps.

The deal with Cheddar is through Mr. Iguodala's new content production company, The Freetown Project, which says it is a "platform for athletes, entertainers and people from all walks of life to express alternative voices and perspectives."

As detailed in a WSJ profile last year, Mr. Iguodala isn't your average NBA player. He enjoys book clubs, hopes to become a vegan after his basketball career and is an avid follower of business news. Mr. Iguodala has invested in more than 15 startups in areas from fintech to media, including Arianna Huffington's Thrive Global, mattress company Casper and The Players Tribune, a digital media venture launched by former New York Yankees captain Derek Jeter.

Mr. Steinberg believes Mr. Iguodala's appeal will be broad, as a result, bringing in not only sports fans but young people with a variety of interests, including business.

For Mr. Iguodala, the show could be a pathway for his future. "There's going to be a time when my basketball career is over and I'm going to have aspirations outside of basketball," Mr. Iguodala said in an interview.

He said he plans to interview cultural influencers from tech, sports and business, and may tap his Silicon Valley connections to interview startup founders. He also plans to have a cooking segment on the show. "I'm a foodie," he says. "If you look at a lot of the diseases the body goes through and the reasons, the majority of it has to do with our diet. I'm still doing more and more research."

In Cheddar's predominantly under-30 audience, Mr. Iguodala says there are "a lot of people who are trying to find their way and this show will give them inspiration that anything can be done."

Athletes have been making their stamp in media in a bigger way, using direct platforms to communicate with fans and tell their stories outside of traditional media. Cleveland Cavaliers star LeBron James owns a media startup called Uninterrupted, which offers documentaries, web series and a podcast network. Mr. James also struck a production partnership in 2015 with Warner Bros. spanning movies, television and digital content.

Mr. Iguodala's show will be shot during the off-season. Mr. Steinberg believes the show will be produced at a budget of between $50,000 and $200,000 per episode, running to the more expensive end if a partner wants higher production values.
Can't wait to watch! Read More Here!
Photo Credit: Getty Images