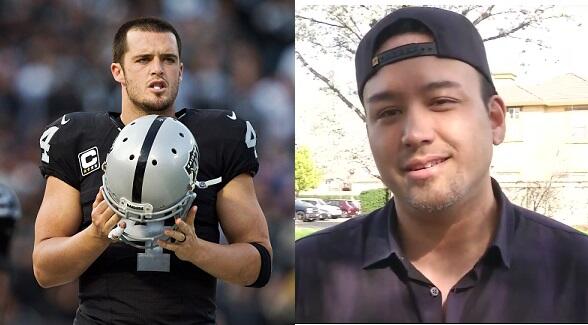 Photo Credit: Getty Images/Video
Another reason why we LOVE Derek Carr!
Via ABC7News
Oakland Raiders quarterback Derek Carr took on the role of good Samaritan when a San Francisco man ran out of gas on the side of a road in the East Bay.

Ron Reeser was driving in his car when it sputtered to a stop. "I just got back from the Philippines, I'm going to Miami next week for a show," Reeser told ABC7.

But with an empty tank he was going nowhere. That's when a stranger pulled up."He's like, 'well why don't you hop in my car, I'll take you to a gas station?" Reeser said. The good Samaritan was casually dressed with a nice ride. "It was a Denali, we talked about having a truck, because one day I'd like to get a truck too."Reeser talked about his music with the stranger. "You know I asked him what he did for a living, and he said he played football. And by that time we had pulled up to a gas station.

"When they arrived at the gas station Reeser hopped out and filled up a gas can. But, he still didn't know who the helpful stranger was. "I said, 'well what's your favorite team?' And he said, 'well I'm a little biased because I play for the Raiders,' So, I was a little shocked and I said, 'really what's your name?' And he said, 'oh my name's Derek Carr.'" Yes, the Raiders' star quarterback who was injured during the playoffs.

"So we began to talk about what his plans were after football. He talked about being a pastor and he was heavily in to god," Reeser said.

Carr often tweets words of biblical inspiration, so back at Reeser's car he offered to pray with him.

"I mentioned three things I thought were something that would be nice to pray for, and he put his left hand on my right shoulder and we bowed our heads, and we said a prayer, and it was a pretty surreal experience at the time," Reeser said.

Reeser later posted his thanks on twitter, and Carr replied any time-but hopefully not on the side of the road again.