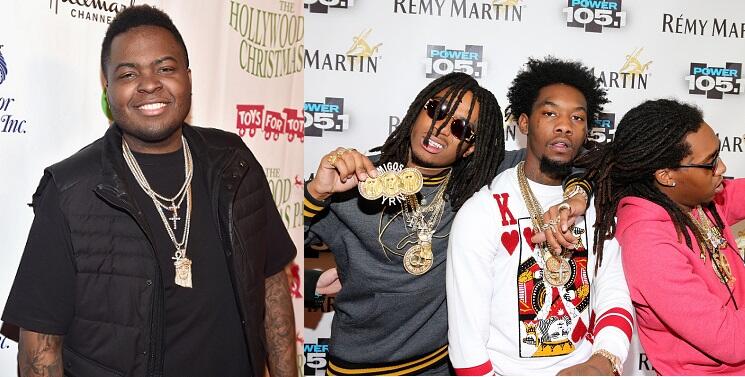 **Update**
TMZ is now reporting details about the altercation:
Sean Kingston was beaten up badly Tuesday and people on scene say Migos was the culprit ... but the story is bizarre and the group is not wanted by cops, at least not yet.

Law enforcement sources tell us it went down late afternoon at the Sands Expo Convention Center in Vegas. We're told Kingston and the guys from Migos got into it over an argument involving Soulja Boy and the 3 members of Migos beat Sean badly, allegedly kicking him and stomping on his head.

Law enforcement tells us someone from Sean's camp pulled out a gun and fired once, but didn't hit anyone. That person was detained by security and turned over to the Vegas PD.

By the time cops arrived both Sean and Migos had left. A short time later Sean was pulled over for a traffic stop and became "semi-cooperative," though he did not name names.
This isn't good for either party! Twitter has been reporting for the last few hours that The Migos jumped Sean Kingston in Las Vegas today! This left everyone asking for video to confirm.
The Game, then went online and confirmed the incident and that he had video, but would only release it for the right price! WorldStar is now confirming as well the fight is 100% confirmed.
Facts about what led up to the incident are still unclear but multiple media insiders who were allegedly there, tweeted then later deleted, the fight indeed happened.
Other sources are also reporting that Quavo did attempt to stop the fight from happening.
If you recall, a few months ago, Young thug posted a video warning Sean Kingston to not get involved with the The Migos vs Soulja Boy beef.
Via XXl
Sean Kingston again finds his name entangled in a beef. This time, he pops up between the issue with Soulja Boy and Quavo. But Young Thug is warning him to keep his distance.

SB and the Migos member have been beefing for the better part of a week since Soulja dropped a diss track creatively titled "Beef."

He later claimed Quavo refused to shoot a fair one, with Sean Kingston as his witness. "Quavo, I texted you my address, nigga, at one o'clock," Soulja Boy said. "I waited for you till seven o'clock, we was 'sposed to catch the fade, one on one, put it on WorldStar. You never showed up, nigga. You know how the fuck I'm rocking, nigga."

Kingston co-signed the statement (below). "I was right there. Nigga said pull up, I want to fight one-on-one," the singer said. "This shit ain't have to go to no social media…it was to the point where [Quavo] ain't show up, it's like okay, he want to go in. Niggas was waiting."
Like everyone else, we will just have to wait for the video! What we do know, the two definitely crossed paths today. How the video lead up to a fight, we will have to wait and see.