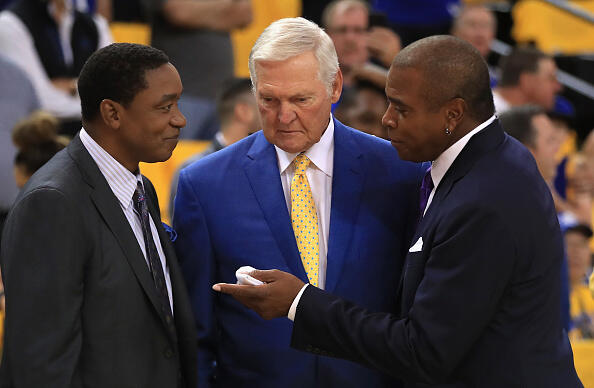 Heartbreaking news for Warrior fans. Sports Illustrated is now reporting "The Logo" will be exiting the Golden State Warriors to join the Los Angeles Clippers.
In a few weeks West will become a special consultant (exact title to be determined) for the Los Angeles Clippers, more or less the role he had played with the Warriors for six years, which included two championships. West had been in touch with the Clippers, particularly owner Steve Ballmer, over the last couple of months after it started to become evident that he and the Warriors were ending a relationship that had begun in 2011.

Sources say that a strain had developed between West and the ownership group, which is headed by hedge-fund legend Joe Lacob and Hollywood heavyweight Peter Guber. But West said he would not address those reports. One thing is clear: It was his decision to leave.

"Jerry West has been an incredible asset to our organization over the last six years," said Lacob. "He's one of the most respected and successful executives in the history of the league and he certainly solidified that reputation during his time with the Warriors. We would have loved for him to remain with our franchise moving forward and conveyed that to him in recent weeks, but we respect his decision. He's earned that right."

For his part West says: "I feel only gratitude and joy that I got to spend these years in Golden State.The ownership group is top-notch. They have made decisions that have kept this franchise going forward. The personnel, the high-quality people, all if it. When I saw what this championship meant to Kevin Durant, with all the barbs and criticism he had endured for daring to leave one team for another, it choked me up. The fans up there are great, too. When I left that night, those were the things I was thinking about, and that's why I was sad."

West would not reveal what Green and Durant said to him. The conversation with Green was particularly lengthy given the chaotic circumstances. But Green is known as a player who felt that West is someone who added value to the franchise just by his presence. Word had gotten around the team by then that West was leaving, and perhaps Green was urging him to stay.
Mixed feelings about this. Jerry West was a major reason why Klay Thompson did not get traded. He also had a major impact on the Warriors draft picks during his reign. Fingers crossed his move does not have a major impact on the team, trades and their performance next year.