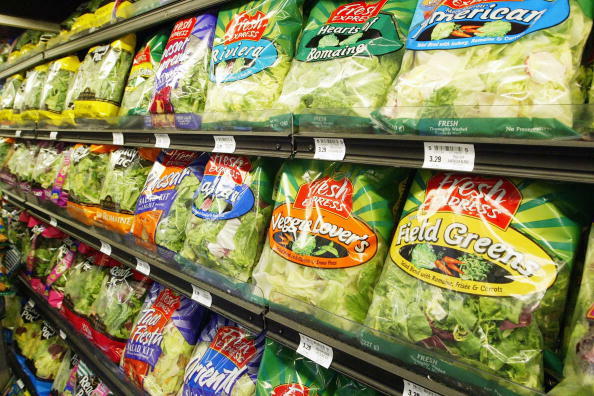 I'll never be able to eat packaged salad the same again! Two people in Florida ate packaged salad that contained partial remains of a dead bat!
Via NYTimes
Two people in Florida ate some salad from a container before discovering the remains of a dead bat inside of it, officials said.

The bat — a Mexican free-tailed bat — was sent last week to a Centers for Disease Control and Prevention laboratory for rabies testing because the animals in the United States can sometimes carry the disease, the agency said in a statement on Saturday. However, the bat was too badly decomposed to definitively determine whether it had rabies.

Transmission of rabies by eating a rabid animal is "extremely uncommon," the agency said, adding that the virus does not survive for long outside the infected animal.

Florida health officials were evaluating the people who ate the salad. They reported being in good health and neither exhibited any signs of rabies, the C.D.C. said.

"In this circumstance, the risk of rabies transmission is considered to be very low, but because it isn't zero, the two people who ate salad from the package that contained the bat were recommended to begin post-exposure rabies treatment," it said.

Based on the bat's deteriorated condition, it was likely in the container for "a number of days," Thomas W. Skinner, a C.D.C. spokesman, said in an email on Monday. This species of bat, also known as a Brazilian free-tailed bat, is commonly found throughout much of the United States, Mexico, Central America and southwestern South America.

The bat was found in a 5-ounce clear container of Organic Marketside Spring Mix. The salad maker Fresh Express issued a recall on Saturday after it said it was notified that "extraneous animal matter was allegedly found" in a single container, according to a notice on the Food and Drug Administration's website.

The company said all the salads manufactured in the same production run were being recalled "out of an abundance of caution." The packages had the production code G089B19, a best-if-used-by date of April 14 on the front label and the UPC code 681131328975 on the bottom.

The recalled salads were distributed only to Walmart stores in the Southeast, the company said. No other Market side salads were affected, and Fresh Express salads were not subject to the recall. Walmart immediately removed the product from its store shelves, and Fresh Express initiated a recall of about 600 cases, the companies said.
Read More here!