Kodak Black Shoots His Shot At Lauren London Disrespecting Nipsey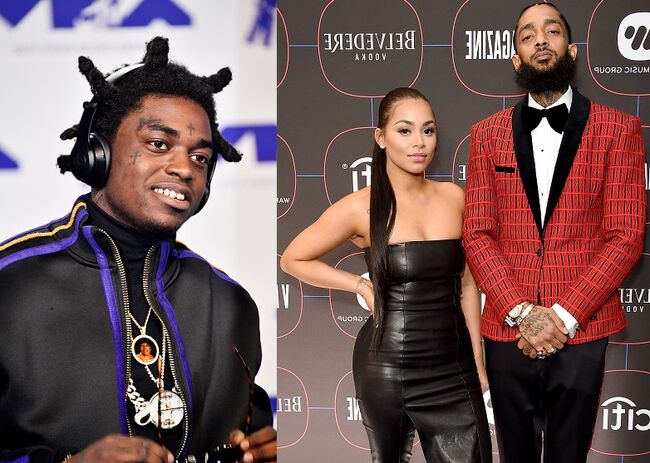 Kodak Black was on Instagram live speaking about Nipsey Hussle's death and then, he started speaking about how he will give Lauren London one week to grieve Nipsey Hussle's death before he shoots his shot. He goes on to say "she might need a whole year to be crying and $hit... If you need a friend to call or a shoulder to lean on, you can call my line."
Although we understand Lauren London is a beautiful girl, she is mourning the death of her husband and Kodak making these comments less than one week after Nipsey Hussle's death is why fans are calling Kodak disrespectful.
Celebrities and fans took to social media to call out Kodak Black for disrespecting Nipsey Hussle. Rapper T.I. took to Instagram to call out Kodak directly writing:
@kodakblack Getcho Muuufuckin Self Together Young Nigga!!!! This ain't no Muuufuckin GAME!!!!
Tank took to Instagram to send a message to Kodak Black writing:
@kodakblackright is right and wrong is wrong young fella. Lets clean this up if you respect the man the way you say you do..
And The Game also had some words for Kodak Black. Check it out below.
Kodak Black caught wind of the backlash online and clapped back and addressed T.I. during another live session stating he didn't disrespect her he was "just saying" and also went off about media not focusing on Kodak being inspired by Nipsey. Do you believe Kodak's explanation or is he cancelled for disrespecting Nipsey & Lauren? Watch below.
Here's what Nipsey Hussle would do with!

Shay Diddy
Want to know more about Shay Diddy? Get her official bio, social pages and articles on 106.1 KMEL, KUBE 93.3 and V101!
Read more