Stephen Curry's response to Trump-praising Under Armour boss = Priceless!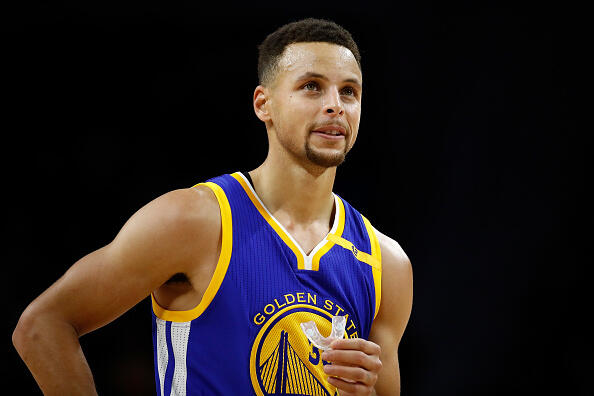 Photo Credit: Getty Images
Another reason to LOVE Steph Curry! Yesterday, Under Armour CEO went on the record claiming Donald Trump was an "Asset" to the country because of his vast business knowledge and skills. Today, when Stephen Curry was asked about those comments he stated:
"I agree with that description," Curry said, "if you remove the 'et' " from the word asset.
Via CSNBayArea
After personally handing out meals and more to folks in need, Stephen Curry sat in the conference room of an Oakland church and opened a window into his sociopolitical thinking.Asked about the risks of speaking out on such sensitive matters, Curry explained that he realized his status had given him the privilege of a platform that he feels obligated to use.

Any decisions about speaking out, he said, would be guided by his principles."Sometimes," he said, "it's worse when you don't say something."That was more than three years ago, and Curry's star was just beginning to rise. He has since won two MVP awards, led the Warriors to their first NBA Championship in 40 years and become an international celebrity.

He also happens to be the most effective star in the marketing stable of the growing athletic footwear and apparel company Under Armour.Which brings us to Wednesday, when Curry waded into the waters related to President Donald Trump.Commenting on a statement made by Under Armour CEO Kevin Plank, who in an exclusive interview with CNBC's Scott Wapner, referred to Trump as pro-business and, therefore, "a real asset for the country."

Curry, in an interview with Bay Area News Group columnist Marcus Thompson II, had a reaction that could not have pleased Plank.

"I agree with that description," Curry said, "if you remove the 'et' " from the word asset.

This is the strongest statement Curry has made on any matter, at any time during a career now in its eighth season. He is under contract to Under Armour until 2024. Moreover, he has an ownership stake.Yet he spoke out, and in very unambiguous terms that clashed with the CEO of the company he represents. And Curry is smart enough to know his explicit critique of the president may alienate potential buyers of shoes and clothing attached to his name.
PRICELESS!

Shay Diddy
Want to know more about Shay Diddy? Get her official bio, social pages and articles on 106.1 KMEL, KUBE 93.3 and V101!
Read more