Kevin Durant Declines His $31.5M Contract Option With The Warriors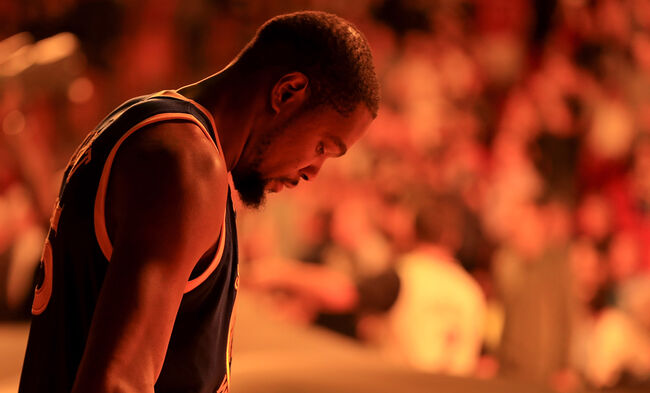 The NBA offseason just got shook up.
All season long, a popular narrative the media has written or talked about was where Kevin Durant would end up after the season was over. This was due to the fact that Durant signed a $61.5M extension with the Warriors that also gave him the option to opt out of the offseason and go into free agency.
Due to this option in his contract, the media put Durant's loyalty to the Warriors in question. Leaving out the fact that he not only helped the Warriors get two back to back NBA Championships but he also took pay cuts in order to keep key six men like Shaun Livingston and Andre Iguodala on the team. When he got hate about it he said,
"Well, I'm a smart guy and I want to keep this thing going and looking at Andre and Shaun (Livingston) and Steph (Curry) — they all should make the most money that they can make and get what they deserve. Because they were all underpaid and I knew at some point they'd want to get what they deserve. So I just took a step back and let the chips fall where they may. Then I took it in my hands. I wanted to keep the team together and I thought it was going to help the ownership bring all the guys back. And on top of that, it's my money. It's my decision. I can do what the hell I want with it." 
Durants decision to opt out of his contract option, doesn't take away from all he's done for this team. Especially this postseason when after a significant calf injury, Durant returned in game 5 of the Finals against the Toronto despite the injury only to rupture his achilles, but his efforts on the court helped the Warriors push the series to a game 6. Even though the injury will ultimately take him out for the 2019-2020 season. His decision also doesn't mean that he can't come back to the Warriors, it just means that he is now able to get the max deal with the team if he chooses to stay! According to ESPN's Adrian Wojnarowski,
Durant is considering returning to the Warriors with the Brooklyn Nets, New York Knicks and Los Angeles Clippers also in the mix.
Regardless of his decision, Warriors fans and the Bay Area are forever grateful for Kevin Durant!
Courtesy: Getty Images

BIGVON
Blogs, videos, and more from BIG VON on 106KMEL!
Read more