Thousands Gathered To Celebrate The Life Of Nipsey Hussle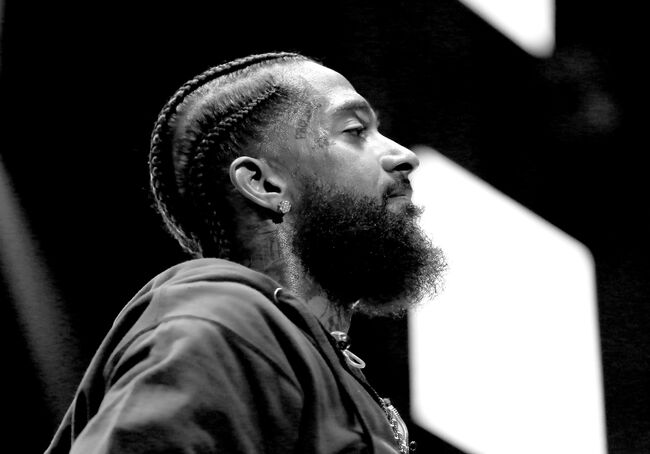 Nipsey Hussle will never be forgotten.
Thousands gathered at the Staples Center in LA on April 11th to celebrate the incredible life of the late Nipsey Hussle. It was free for the general public, and fans of Nipsey lined up for hours, so they could show their love and support to not only Nipsey but his family as well.
The day started with a very intimate and heartbreaking photo that was included in the program of a text Nipsey's wife, Lauren London, had sent to him in January when he was sleeping right next to her. The text read as shared by Metro UK,
"I'm in bed with you while you're sleeping and I wanted to tell u something. I want you to know I feel real joy in my heart when I'm around you. I feel safe around you. Protected. Like a shield over me when you're around. I am totally myself with you (which is prob why I'm annoying) because I don't wear a cool mask anymore lol. You've made me into more of a woman. You've given me an opportunity to really love a man. You've been with me while I've been sick. Through my fears. U have encouraged me, and inspired me to reach higher. I've learned so much more about myself with you. You've been my turn up and my church. I wouldn't want to go thru this journey with anyone but you. I look up to you in a lot of ways and strive to educate myself more like you have. And when we're at odds… I feel defeated and sad, knowing we are so much better than that. I just want you to know that you've been the greatest boyfriend to me. You aren't perfect but I would never ask you to be. You and I work. We fit. And…. you're still the coolest guy in the world to me. Still! I love you so much. Unconditionally. My truth is this. I'm never going to give up on you. My loyalty and devotion is to you."
A friend of Nipsey Hussle's, Karen Civil, went on stage to read a letter from President Barack Obama to Nipsey, his family, and his fans that read:
"Dear Friends and Family of Nipsey,
I'd never met Nipsey Hussle, but I'd heard some of his music through my daughters, and after his passing, I had the chance to learn more about his transformation and his community work.
While most folks look at the Crenshaw neighborhood where he grew up and see only gangs, bullets, and despair, Nipsey saw potential. He saw hope. He saw a community that, even through its flaws, taught him to always keep going. His choice to invest in that community rather than ignore it--to build a skills training center and coworking space in Crenshaw; to lift up the Eritrean-American community; to set an example for young people to follow--is a legacy worthy of celebration. I hope his memory inspires more good work in Crenshaw and communities like it.
Michelle and I send our sympathies to Lauren, Emani, Kross, and the entire Asghedom family and to all those who loved Nipsey.
Sincerely,
Barack Obama"
There were also special performances from Marsha Ambrosius, Anthony Hamilton, Jhene Aiko, and Stevie Wonder
The music world also took to Twitter to pay their respects to Nipsey...
Snoop Dogg, YG, DJ Mustard, Big Boy, and Isaiah Thomas also came out to speak about the impact that Nipsey had in their life and the community...
To close of Nipsey Hussle's celebration of life his brother Samiel Asghedom, wife Lauren London, sister, Samantha Smith, father, Dawit Asghedom, and mother, Angelique Smith shared their memories of Nipsey and how they will forever continue his legacy...
R.I.P Ermias "Nipsey Hussle" Asghedom

BIGVON
Blogs, videos, and more from BIG VON on 106KMEL!
Read more