Kevin Durant Says He Doesn't Trust The Media Anymore.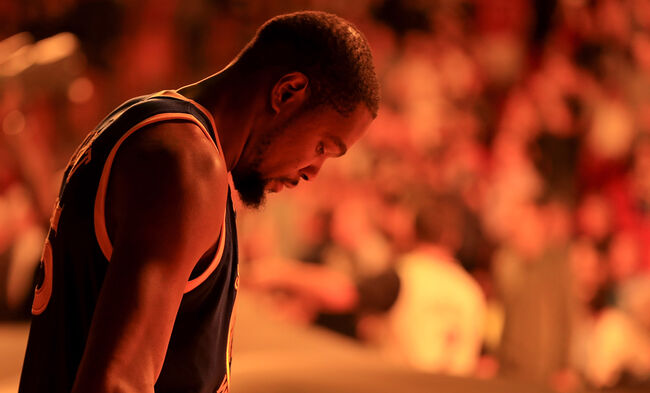 On Wednesday night, after the Warriors won their 13th game out of the last 14 to the San Antonio Spurs, Kevin Durant stepped into the media room for his post-game interview.
Durant ended the game with 23 points, 8 rebounds, and 9 assists, but that's not what he was asked about. With the trade deadline being today (February 7th) there is a lot of speculation of where Durant will end up in the offseason. He has taken pay cuts in the past, to keep the Warriors together but this year, he might want his full worth of pay especially if they were to win another championship. With that being said, Klay Thompson will be an unrestricted free agent in July and though he wants to stay a Warrior forever, he also wants to the max deal, which he deserves.
Now there's no question that Durant and Thompson deserve to get paid out, but do the Warriors have the money to do so?
With that question in mind, the media has been speculating that if Klay get's the max deal, Durant might want to go to the Knicks. But the Warriors and Durant have stayed relatively quiet during this entire trade deadline process, and when one reporter questioned him about why he's been quiet, Durant responded with,
"Why do you care?"
That sparked a whole conversation between Durant and the media and why he doesn't trust them anymore.
Watch below!
Courtesy: Getty Images

BIGVON
Blogs, videos, and more from BIG VON on 106KMEL!
Read more