Kevin Durant and LeBron James' Song Is Finally Released!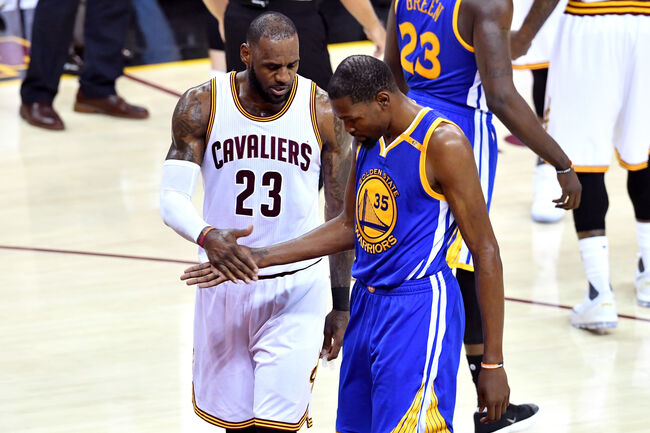 It's not unusual to hear about athletes crossing into the music world these day, but it's dope to hear about it when two of the greatest do it, and do it together.
About a year ago, a sample of Kevin Durant and LeBron James' song "It Ain't Easy" leaked on the internet, but the full song wasn't to be found... until now.
Ohio based producer Franky Wahoo released the full song on to SoundCloud where he said,
"Song was originally was recorded in 2012-2013 during the NBA Lockout .Kevin Durant & Lebron James Came to Spider studios based out of Cleveland OH , to record . The original beat was a industry instrumental and could not be used for media . So Franky Wahoo & StewBillionaire redid the production around there original vocals The song was planned to go on NBA 2K19 but never did . Here is the secret song everyone has been waiting for."
Wahoo said in an interview with Noisey magazine that there was nothing he could do, but release the song,
"There was nothing I could do, a lot of celebrities retweeted it, comedians retweeted it, Ellen retweeted it. So I was like, I can't feel bad now. It kept going viral and Paul finally called back saying "yeah don't leak it we kinda wanna do something with"... So for two years, they went back and forth with me. They'd come up with an angle like "oh we're gonna try to do it on this blase skit" and weeks of email with them and I'm like "what the hell man." Then I'd see Cleveland DJs playing it at clubs. So I talk with my manager and he's like "there's no paperwork on this that they bought this off you or anything." The big thing was like one of the friends [of LeBron] that's a DJ here, we were scared that they were gonna publish [the remake] without crediting me, which could easily happen."
Check out the full song below!
Courtesy: Getty Images

BIGVON
Blogs, videos, and more from BIG VON on 106KMEL!
Read more