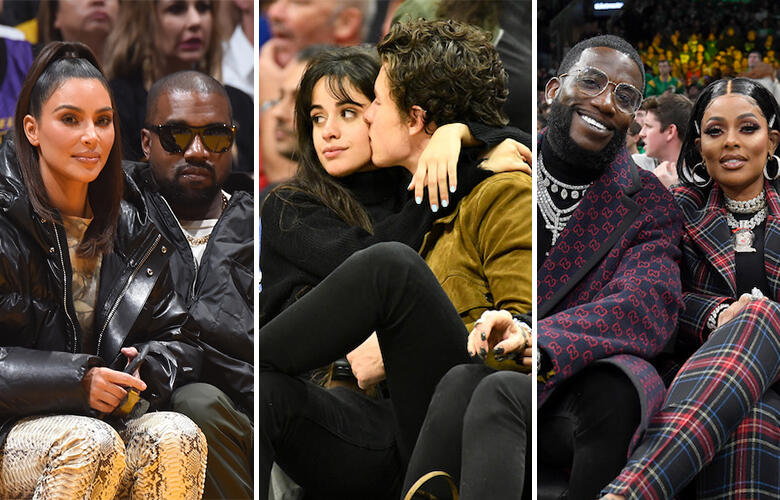 There's a reason that "love and basketball" is a common term; the sport brings people together like no other. For celebrities especially, heading to a basketball game is the perfect opportunity to hang back casually, make a fashion statement, and even sneak in some smooching (we're looking at you, Camila and Shawn)! It's also the perfect way to watch a fast-paced game, sitting as close as possible to the action on the court, sometimes even right next to players' seats. These celebrity couples make date night look extra fun and exclusive, despite being at massive arenas with hundreds of other people.
1. Kim Kardashian and Kanye West
Kim and Kanye are no strangers to public outings, especially date nights that consistently double as fashion showcases for the modish couple. At a Lakers vs. Cavaliers game in early 2020, Kim and Kanye were seen on the sidelines, with Kim cheering on her sister Khloé's ex, Tristan Thompson. The internet saw photos of Kim's energetic yelling and assumed she was booing Tristan, but as she clarified, "I would never go boo anyone. I don't go to hate, only to cheer!"
2. Camila Cabello and Shawn Mendes
For our fave PDA-friendly couple, Camila Cabello and Shawn Mendes, basketball games are just one of the many places they're seeing canoodling. The two are clearly expressive with their love, having grown together as friends, evolving into collaborators, and eventually getting close as partners.
3. Gucci Mane and Keyshia Ka'Oir
Similar to other celebrities that make every public outing a chance to highlight their fashion sense, Gucci Mane and Keyshia Ka'Oir are no different. With every game appearance, they make sure to stand out— whether in teal and blue fur ensembles or dressed head to toe in Gucci.
4. Quavo and Saweetie
Quavo and Saweetie have a low-key but romantic relationship. Basketball games are a go-to, chill activity for date night, and the two are often seen supporting their favorite teams courtside. At one NBA event, Offset was even seen third-wheeling the couple as they snuggled intimately and showed rare snippets of PDA.
5. Adam Levine and Behati Prinsloo
Model Behati Prinsloo and her husband, Maroon 5 singer Adam Levine, have been to many basketball games thanks to Adam's die-hard Lakers fandom. The two are frequently seen splitting their time between watching the game and kissing courtside, which seems to be a theme among celebrities. As a testament to his love for basketball, Adam celebrated his 40th birthday by playing in a private game at the Staples Center, something people could only dream of.
6. Rami Malek and Lucy Boynton
We just love a couple of lovebirds! At a recent Lakers game, Rami and Lucy were seen sitting close and widely grinning, unable to contain their joy. They appeared entirely enamored with one another, joking throughout the game and never far from deep eye contact.
7. Lily Collins and Charlie McDowell
For this filmmaking couple, along with nearly every other couple in Hollywood, basketball games are perhapsthe go-date spot, a near must in every relationship may it be platonic or romantic. Lily and Charlie graze the more casual style of game-going, channeling the denim aesthetic while getting close on the court.
8. Flea and Melody Ehsani
We simply cannot get enough of uber-cool couples at basketball games, Flea and Melody Ehsani being no different. Flea, the bassist for Red Hot Chili Peppers, frequents basketball games with his wife, designer Melody Ehsani. The two are often standouts on the court's perimeter, wearing bright colors or patterns or both, and always showing support for their team.
9. Emily Ratajkowski and Sebastian Bear-McClard
For a supermodel like Emily Rajatkowski, anywhere you go is an opportunity to pose. With cameras and paparazzi everywhere, basketball games are the perfect photo-opp. Her and hubby, Sebastian Bear-McClard, are usually hanging on each other, affectionately close as onlookers stare at the duo.
10. Kane Brown and Katelyn Jae
For newlyweds Kane Brown and Katelyn Jae, an infinite love (as symbolized in Kane's tattoo of Katelyn's name on his hand) is clear for all to see. The couple has been seen at games getting comfy and relaxing, but now that they have a baby, date nights might look a little different but equally as lovely. 
11. Matt Pokora and Christina Milian
As new parents, Christina Milian and Matt Pokora love to hang out at games either alone or with Christina's oldest daughter, Violet. It's clear that games are a time to chill for the couple, especially now that they've welcomed their new baby boy, Isaiah.
12. Martin Lawrence and Roberta Moradfar
This soon-to-be-married duo is always down to attend a casual game when they're not busy with work. As a nurse and business owner of Efface Aesthetics, Roberta has an established career of her own. With Martin's busy life as an actor, heading out on a relaxing date like this with his love is sometimes just what the doctor ordered.
13. Jesse Williams and Taylour Paige
While their relationship is quite serious, their attire at basketball games is a bit more on the casual side. Actor Jesse Williams and his girlfriend, actress and dancer Taylour Paige, frequently flirt on social media with one another, to no surprise. When they're not at public events or working, they keep it chill and we certainly can't blame them.
14. Chloe Bridges and Adam DeVine
Chloe and Adam are regulars at the Staples Center in Los Angeles to see the Lakers play. Chloe noted in an Instagram post that they often go once a week to see a game, if not more. The two are happily in love and recently engaged, making for even more smiley pics and date nights on the court!
15. Beyoncé and Jay- Z
Beyoncé and Jay-Z have been to countless basketball games, whether it's just the two of them, with a group of friends, or even with their daughter, Blue Ivy. They are probably the epitome of a "love and basketball" couple, going on regular game dates from the beginning of their relationship, continuing through today.