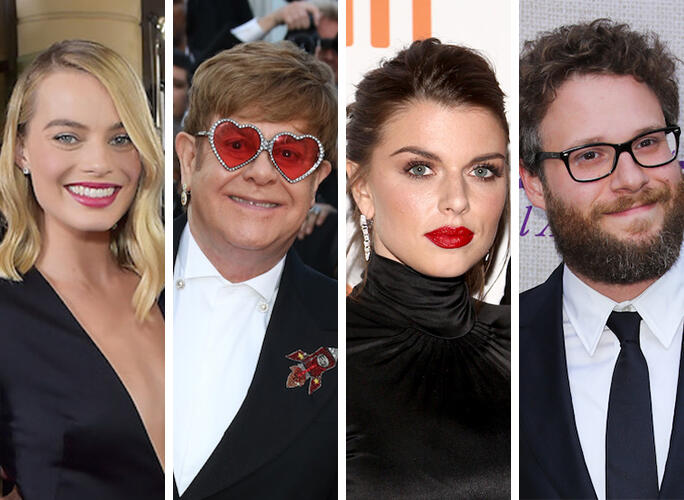 While it makes sense that a lot of celebs get together with their fellow peers in the limelight (after all, who can understand that level of fame besides someone else who has it?), the below couples chose true love over everything.
Seriously: Whether that person was the star's high-school sweetheart, someone they just happened to meet, or whatever the case may be.
Basically, this gallery is proof-positive that all us ~normals~ totally have a chance with the celeb of our choice. Seriously: You never know!
1. Margot Robbie and Tom Ackerley
Margot and Tom met by being on the same film set together. Around the same time, they spontaneously signed a lease with a group of friends. They then married a few years later in total secret! They didn't even tell their guests where the wedding would be, instead they transported them by bus to the actual venue. Keeping the ultra romantic moment for themselves.
2. Elton John and David Furnish
These two met all the way back in 1993. Elton wanted to host a dinner and meet new people. Lucky for him he met the love of his life and it was love at first sight. The couple married nine years later, when same-sex marriage became legal.
3. Julia Fox and Peter Artemiev
Uncut Gems star, Julia Fox, shocked the world when she revealed that she was happily married. She married Peter Artemiev, who works in private aviation, just two months after meeting! She claims she manifested it with him being everything she said she's ever wanted.
4. Seth Rogan and Lauren Miller
Seth and Lauren met right before Seth's career took off. Lauren didn't even know who he was, but they ended up hitting it off and going on a date. They dated for 6 years when Seth finally decided to pop the question. He was riddled with so much anxiety after not planning a proposal, that he asked Lauren to marry him as soon as he got the chance which was while she was changing in the closet. Yep, Seth proposed to Lauren while she was topless and she said yes! 
5. Oscar Isaac and Elvira Lind
Oscar Isaac proposed to Elvira Lind while she was pregnant with their first child. Isaac saw Elvira carrying his child and bathing his ill mother, then realized he wanted to spend the rest of his life with her. They got married a month after his mother passed.
6. Snoop Dogg and Shante Broadus
High School sweethearts right here! Despite facing some rocky parts in their relationship, the couple renewed their vows in 2008 and have been together for 20 years!
7. Lin Manuel Miranda and Vanessa Nadal
These two went to high school together, but Miranda was too nervous to talk to her then. He later reached out to Vanessa on Facebook and they got married in 2010.
8. Kelly Clarkson and Brandon Blackstock
Kelly and Brandon first met at the CMA's in 2006. They didn't date until 6 years later once Brandon got divorced. They were reintroduced by Clarkson's manager and got engaged in less than a year!
9. Jesse Tyler Ferguson and Justin Mikita
Although the couple often tell people they met through mutual friends, they really met at the gym! Very relatable. They got married in 2013 and hope to have kids.
10. Matthew McConaughey and Camila Alves
This sweet couple first met in 2006 at a nightclub. Once Camila figured out it was McConaughey flirting with her, she tried to find a way out but he ended up charming her. For McConaughey it was love at first sight, now they've been married for nine years!
11. Ed Sheeran & Cherry Seaborn
If there is one couple who is #RelationshipGoals, it's Ed Sheeran and his wife, Cherry Seaborn. They've known each other since grade school, and reconnected in 2015. Fate took hold when they were both spending the 4th of July on Rhode Island, and Ed invited Cherry to his bud Tay Swift's infamous annual party. OH, and then he wrote "Perfect" about her. We'll leave you to cry now.
12. Louis Tomlinson & Eleanor Calder
Although there are a few different theories floating around about how Louis and Eleanor met, we totally stan this pair. Eleanor is a fashion blogger and model. While the couple remains pretty private, they seem happy AF, so we're happy for them.
13. Kevin Jonas & Danielle Jonas
Kevin and Danielle are a tried and true couple, but what do you actually know about their romance? Well, for starters, they've been together since 2007, when they met on a vacation in the Bahamas. Before Danielle met Kevin, she was a hairdresser, but let's not forget her starring turn in reality show "Married To Jonas"!Now, they have two daughters, and are still going strong according to some lip-locked pics from Nick and Priyanka's wedding.
14. Ansel Elgort & Violetta Komyshan
Ansel and Violetta's romance dates back to their days at performing arts high school, LaGuardia, in New York City. Violetta, like Ansel's mother, is a dancer.
15. Taylor & Natalie Hanson, Zac & Kate Hanso, and Isaac and Nikki Hanson
Hanson proved that marrying a member of your favorite band is not just a pipe dream, ladies. Yup, every brother married a fan that they met at their concerts (true story). And each couple has a jackpot of kids between them (Taylor and Natalie alone just welcomed their sixth baby.)
16. Jessica Alba & Cash Warren
Jessica and Cash have been together for — wait for it — 14 YEARS! Jessica and her producer hubby have 3 children, and recently celebrated Cash's 40th birthday with a PJ Party game night. Sweetest. Couple. Ever.
17. Matt Damon & Luciana Barroso
Here's another adorable couple that's been married for over a decade. But how they met? Total fate. The actor met his wife while he was in Miami filming a movie. Apparently, it took some major convincing to get him to go out to a bar that night, but thankfully he gave in and met Luciana, who was working there as a bartender.
18. Anne Hathaway & Adam Shulman
Adam Shulman, the handsome husband and father you often see by Anne's side on the red carpet, is an actor, producer, and jewelry designer. They got married in 2012, and have an adorable son, Jonathan.
19. Joseph Gordon-Levitt & Tasha McCauley
Swiping through endless apps to no avail? Well, maybe you need to start asking friends who they can set you up with. Joseph Gordon-Levitt and his wife, Tasha McCauley, met through mutual friends. While Tasha mostly keeps out of the public eye, we do know that she is a business and technology developer.
20. Eddie Redmayne & Hannah Bagshawe
Scared to confess your love to your BFF? Eddie Redmayne and wife, Hannah Bagshawe should give you all the hope you need. The two were friends for 12 years before they began their romance, and married two years later.
21. Zoë Saldana & Marco Perego
This Avatar star married professional soccer player turned artist, Marco Perego, in 2013. Now, the two are raising their 3 sons in a gender-neutral environment.
22. Jon Bon Jovi & Dorothea Hurley
Three decades of marriage, four kids, and a whole lot of hits later, Jon Bon Jovi and his high school sweetheart, Dorothea Hurley, are still going strong. Now, that is true love.
23. Gal Gadot & Yaron Varsano
Gal Gadot is truly the Wonder Woman of Yaron Varsano's heart. Apparently, on their second date, the Israeli businessman told her that he'd propose to her in two years' time. He followed through and proposed in 2008, and the couple have been loved-up ever since.
24. Reese Witherspoon & Jim Toth
Although Jim Toth never represented his wife, Reese, he is an agent at the agency that represents her. He was her knight in shining armor when he intervened between Reese and a man who was drunkenly hitting on her.
25. Aaron & Lauren Paul
Aaron Paul's wife, Lauren, is beautiful both inside and out. She has dedicated her life to anti-bullying advocacy, co-founding the non-profit, Kind Campaign. Aaron, supportive husband that he is, raised major awareness for the cause and several aww's from us when he called out the campaign in his 2014 Emmy's acceptance speech.