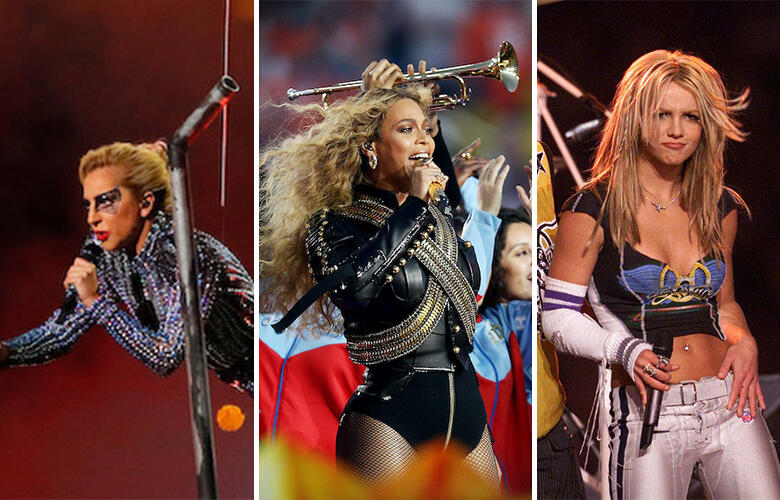 During an event where all eyes are usually on the men of the game, women have repped for their own by serving a spectacle during the Super Bowl halftime show. At a moment when all sports spectators can use a breather from the intensity of the championship game, the halftime show has given both fans and non-fans some time to enjoy a little song and dance. As per recent years, women have dominated the platform, churning out some of the most buzzworthy sets of all time and we have a list of our favorites. Scroll on below to see the best female Super Bowl performers!
1. Lady Gaga
We'll never forget Gaga's iconic entrance from the sky onto the stage.
2. Beyoncé
In 2016 Beyoncé was a headliner for a second time, there's nothing this superstar can't do.
3. Britney Spears and Mary J. Blige
Two icons came together to give us a one of a kind mashup.
4. Beyoncé, Michelle Williams, and Kelly Rowland
Queen B surprised us when she brought Destiny's Child back for one unforgettable halftime show!
5. Madonna, Nicki Minaj and M.I.A
Madonna brought out cool girls Nicki Minaj and M.I.A. giving us cheer realness.
6. Janet Jackson
Before Free the Nipple was a movement, we had Janet's controversial, but iconic, nip slip.
7. Gloria Estefan
Gloria brought her Latina flavor to the Super Bowl and got the crowd dancing.
8. Queen Latifah and Martha Reeves
These ladies gave us MAJOR Motown.
9. Diana Ross
Miss Diana had the grandest exit of all time, ending her set by leaving on a helicopter!
10. Patti LaBelle
Patti gave us everything when she sang Can You Feel the Love Tonight.