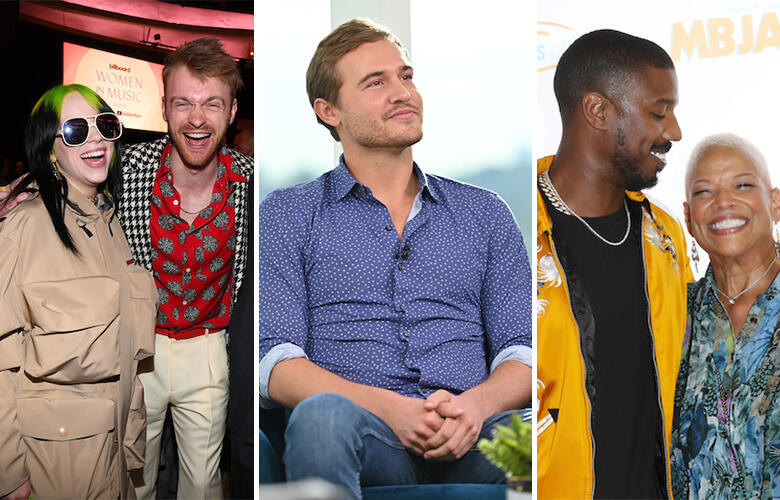 Most people would assume that once a person becomes famous, the first thing they do is buy a mansion. When you break it down and really think about it, that isn't necessarily the path for every celebrity. 
We've created this list to show you that some of your favorite celebrities actually prefer their life at home with their folks, or have chosen to live with parents for one reason or another. 
1. Billie Eilish
For this world-famous young artist, living at home with her parents in their cozy California home isn't a bad thing. In fact, it's a space that has encouraged musical growth ever since Billie was a little kid. Her parents made sacrifices like sleeping in the living room so that Billie and her brother, Finneas, could have their own spaces to make art. Safe to say their support paid off and continues to do so! 
2. Peter Weber
Pilot Pete loves some family time! As his mother recently reported on the "Bachelor Party" podcast, when Pete isn't working, flying across the world, he resides at home with his big family. It makes sense too, considering how close they all are and how infrequently he's actually home. 
3. Michael B. Jordan
Up until a few years ago, the Black Panther superstar lived in a spacious home with his family. He made this decision in part to be close to his mother and take care of her during her stint with lupus. He now lives solo in a downtown LA penthouse, but his family remains close. 
4. Kim Kardashian West
Miss KKW is no stranger to living a comfortable life. She lives with Kanye and her four kids now, but for a time while figuring out logistics for her own home, Kim moved back in with her momager, Kris Jenner. She did that a second time, too-- staying cozy with the family's matriarch-- while her and Kanye were in between houses. 
5. Zendaya
Euphoria star (and overall star) Zendaya revealed in 2016 on The Ellen Show how living at home has been such a great financial decision as well as a way for her to preserve her mental health. Being a young star clearly has its challenges, so staying close to people who can ground her certainly helped. She has since moved out and lives in a stunning LA mansion. 
6. Selena Gomez
It's definitely not rare for 20-something year-olds to live at home with their parents, especially when the average young person is in school and trying to save money. But for our girl Selena, 20 was the age when moving out was the best option. She's still close with her mom and visits her family's Texas home whenever she can! 
7. Chrissy Teigen
As seen often in her social media posts, Chrissy's mom, whom the family refers to as Yai, lives with Chrissy, John, and the kids. People often wonder why Chrissy's father isn't seen as much, and she's noted how he is around often, living nearby, but having Yai in the house full-time is what works for their big, loving family! 
8. Michelle Obama
The former first lady had her mother live with the family during their eight years in the White House, helping to raise Sasha and Malia.
9. Jennifer Lawrence
Jennifer made a comment back in 2012 about how even as a millionaire, she lived at her parents' condo. She noted how she was used to small spaces, so living in a mansion all alone seemed super weird and foreign.