Man in blackface mocking Colin Kaepernick NFL protests causes social media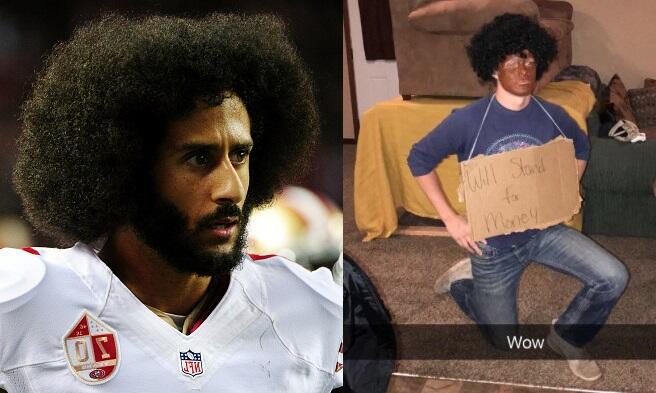 Obviously, wearing 'black face' for any reason is not a good idea. Especially when your mocking a man who has been the face of a movement attempting to shine light on racial inequality. A South Dakota college student is under fire after his Halloween costume mocking Kaepernick went viral.
Via Dailymail
The white man, who identified himself as South Dakota State University student Cole Paulson, dressed up in blackface and a black wig as he knelt and held a sign reading: 'Will stand for money'.

It was a reference to Kaepernick and other NFL players kneeling during the national anthem to protest social injustices, particularly against African-Americans.

A photo of Paulson was initially shared on Twitter on Friday but quickly brought an onslaught of criticism.

He defended himself on Twitter by insisting his intentions 'were not racist whatsoever', but his comments have since been deleted.

Paulson has now apologized, telling the Argus Leader he feels 'terrible' for wearing blackface but reiterated that he was not intending to be racist.

'I will be completely honest and tell you I was ignorant to the fact as to painting my face like that was racist,' he said.

'It was in no way my intention to offend the African-American community, and I have read many articles and documents since to educate myself on why it was wrong of me to do what I did.

'I was contacted almost immediately about how it was wrong and proceeded to wash it off before I went anywhere. I wholeheartedly apologize as I feel horrible about my ignorance and offending many people I respect.'
Check out some of the responses to his costume below.