Montia, Claims she had sex 3 times with Kevin Hart and "had a connection"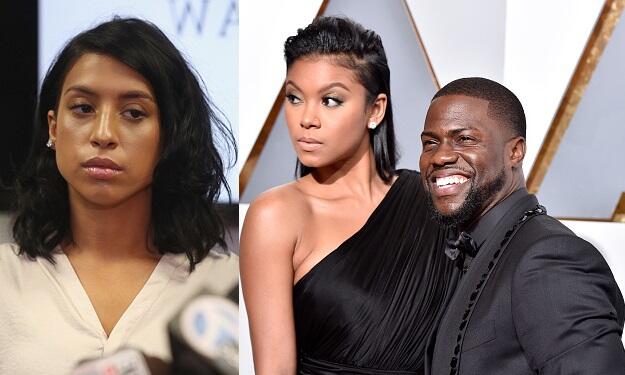 I'm pretty sure Kevin Hart just wants this woman to shut up so the story will go away. The woman at the center of the Kevin Hart sex tape/cheating scandal, Montia Sabbag, goes into details about her relationship with Kevin Hart, how and when the hooked up, whether she knew he was married and more. Everyone in the world knows Kevin Hart is married so don't play victim now honey.
Via Dailymail
In a sensational interview with DailyMailTV, Montia Sabbag tells all about the trip and the ensuing sextortion plot, which saw cheating Hart publicly apologize to his pregnant wife Eniko Parrish and his two children for a 'bad error in judgment.'

And the 26-year-old exclusively reveals for the first time that the sex tape was filmed during the day when Hart was sober, not when he was drunk late at night.

Sabbag says she and Hart became 'intimate' hours after she jetted in to Sin City with the star on a private jet. The pair, who traveled with a group of mutual friends, flew to Nevada from LA on August 19 and partied for three days and nights.

The aspiring actress claims she didn't know the comedian was married nor did he tell her that he was. He took an immediate liking to her - paying the pretty brunette a lot of attention and ultimately having sex with her three times.

Sabbag said: 'I was intimate with Kevin three times in the course of maybe three days. It was fun,' she recalls in the interview airing Monday.

'We just get along, we get each other, he's funny, I'm funnier. We had a connection, we had chemistry. We clicked.

'It was fun, he didn't try to woo me, it was just an instant connection.'

Sabbag, who says she is a makeup artist and recording artist who lives in LA, was once in a girl group called New View as a 17-year-old.

But that early brush with fame was short-lived and she was soon brought back down to earth.

Sabbag has denied being a stripper, claiming she worked as a bartender at a Vegas strip club before moving to LA. However, a new leaked video from that time period shows Sabbag trying out the pole.

It was back in Nevada that the latest chapter in her life unfolded.

'I had a girlfriend who invited me to go with a few of her friends. I was like, "okay, sounds fun,"' says Sabbag, who is originally from Boston, Massachusetts.

'We stayed at the Venetian hotel and we ended up moving hotels to The Cosmopolitan.

'I met him (Kevin) on the plane, I was with a friend and we had no idea he was gonna be there.

'He was with his friends. I thought he was cute, he's an attractive man, but I wasn't star struck or anything like that, it was super casual, he was a gentleman, a nice guy.'
She later went on to say:
Sabbag said the pair instantly felt a 'connection' and had 'chemistry'.

She said the sex 'happened naturally', with the two peeling themselves away from the group and going into Hart's bedroom off the main suite.

'He made me feel comfortable, I don't remember exactly what happened, it kind of just happened,' Sabbag said with a smile.

'Yes we were intimate, I did not know he was married but I found out later, I was a little bit upset, confused about it because the way he was acting it didn't seem like he was married.
Photo Credit: Getty Images