A's rookie Bruce Maxwell is the first MLB player to take a knee for anthem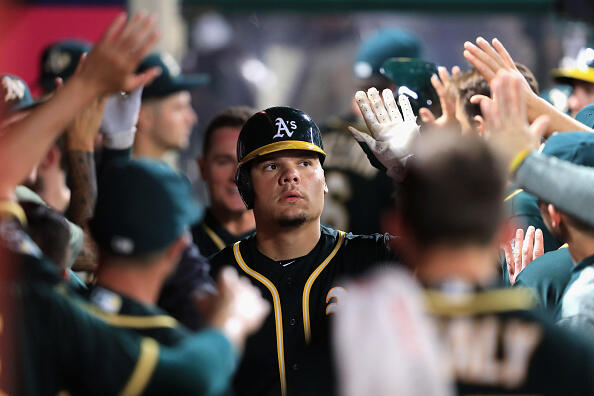 It looks like Trump's comments about Steph Curry, Colin Kaepernick, Charlottesville and more, are becoming more than any one can ignore. Bruce Maxwell, rookie catcher for the Oakland A's, took a knee during tonight's game against the Texas Rangers. He is the first player to take a knee in the the MLB this season. Not only was he at the front of the line, but his team mate, Mark Canha, a San Jose native, stood with his hand on his shoulder showing support and solidarity. RESPECT!
This, after a series of tweets this morning responding to Trump's speech where he said national anthem protesters should be fired and referred to Colin Kaepernick as a "son of a b*tch."
Via SBNation
Maxwell, a 26-year-old second-year catcher for Oakland, was profiled by Susan Slusser of the San Francisco Chronicle:

Maxwell was born in Wiesbaden, Germany, when his father, who also is named Bruce, was stationed there with the Army. The younger Maxwell is highly patriotic - he took great pride in the July 4 uniforms and catcher's gear he received this year - so his decision to kneel appears to be entirely in opposition to Trumps comments and in solidarity with the NFL players who have taken a knee for the anthem.

The A's, immediately upon Maxwell's anthem protest, issued a statement of support."The Oakland A's pride ourselves on being inclusive," the statement read. "We respect and support all of our players' constitutional rights and freedom of expression."