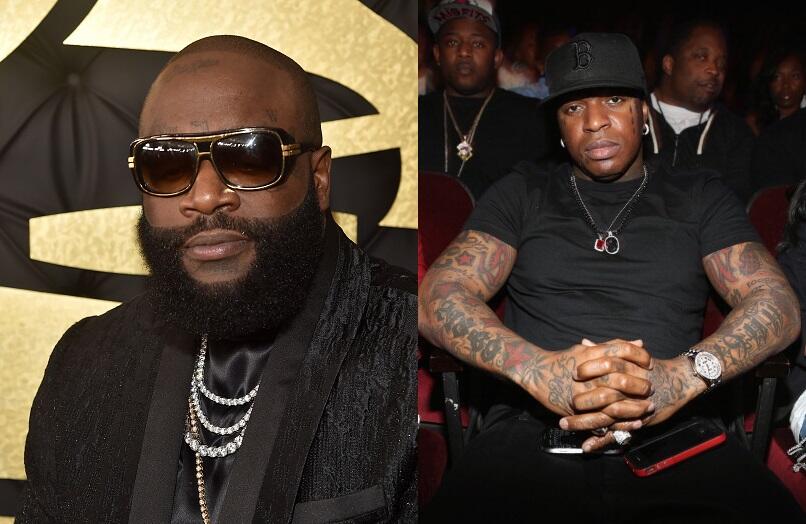 Photo Credit: Getty Images
Looks like we have a lot to look forward too on Rick Ross's new album Rather You Than Me, whick will be released tonight at midnight.
Via Complex
Rick Ross has fired a multitude of shots at Cash Money co-founder Birdman in a new track. "Idols Become Rivals," a track produced by Black Metaphor from Rozay's new album Rather You Than Me, opens with a spoken word intro from Chris Rock before Ross launches into a classic tale of disillusionment. The track surfaced through the album's international releases.

Ross opens with memories of looking up to a former idol before learning, thanks to a meeting "on Live Nation dates," that all was not as it seemed. "Damn Stunna I love you n****, hate it came to this," Ross says in the track. Later, Ross tells Birdman, "I used to look up to you, n****" and says his whole team is "starving." Birdman, Ross says, was in people's pockets "by the time we could count to five." Ross also mentions Birdman's widely covered struggles with Lil Wayne and says he hopes "Mannie Fresh will get to see the light." The track samples Camilo Sesto's "Agua de Dos Ríos," the same song used for Jay's Dynasty closer "Where Have You Been."

"Catholic record labels n***** getting raped boy, Birdman's a priest," Ross also raps.

In an interview with Billboard last month, Ross teased the track without dropping names. "I've got a record titled 'Idols Become Rivals' and it's basically me writing a letter to someone in the game that I looked up to damn near the most and I hate what things have come to," Ross said at the time.

Following Birdman and Wayne's appearance onstage together in January 2016, Ross seemingly referenced the reunion in a Snapchat video. In a December 2015 interview on The Breakfast Club, Ross confirmed he had no relationship with Birdman. "For me to see the way things have transpired, I can't respect that, and I don't respect that," Ross said.
Read more here!
Read more lyrics where Ross addresses how Birdman treated Dj Khaled & Mannie Fresh below.