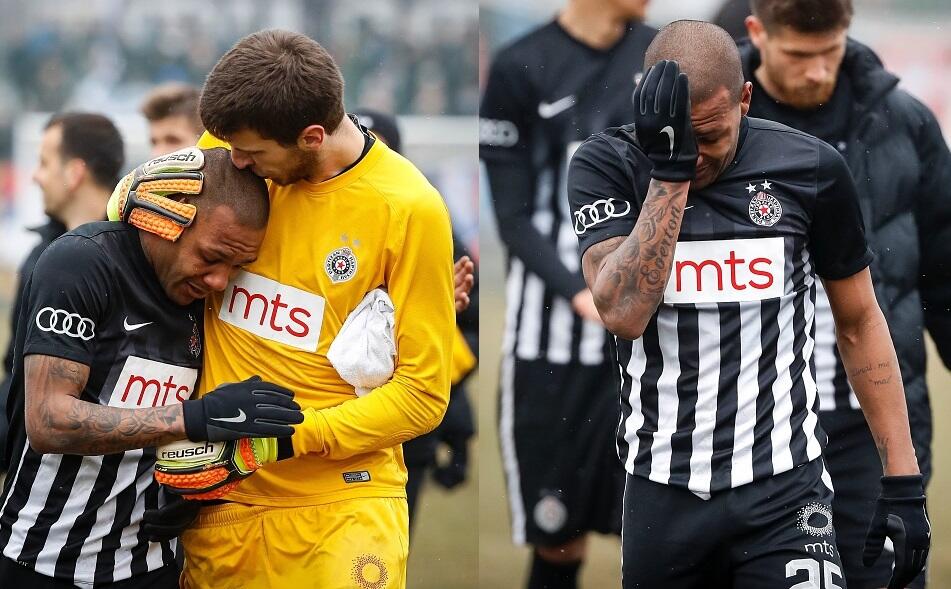 Photo Credit: Getty Images
This absolutely disgusting and heartbreaking. A Brazilian soccer player was berated with racist signs and chants from opposing fans while playing a game against opposing rivals Rad. At the end of the game, Luiz gave the finger to the fans who had been chanting racist chants. Instead of opposing players coming to his defense, the opposing players began trying to fight Ruiz. The coach didn't even come to his defense! In 2017, these things still happen.
Check out the full story below!
Via Dailymail
Partizan Belgrade's Brazilian midfielder Everton Luiz left the field in tears yesterday after being racially abused by supporters of local city rivals Rad.

Luiz, 28, was jeered and taunted with monkey noises every time he touched the ball and some Rad fans unfurled a banner insulting the Brazilian towards the end of the game.

At the final whistle, Luiz made a one-fingered gesture in the direction the Rad fans, who reacted furiously, prompting the home team's players to confront him.

A full scale brawl broke out and police had to move in to prevent tensions spilling over as Luiz headed for the dressing room in tears.

Partizan won the game 1-0 to stay second in the table six points behind Red Star Belgrade.

Speaking after the match, he said: 'I couldn't hold back the tears as I had to face racist insults from the terraces for 90 minutes.

'I was even more shocked by the attitude of opposing players who, instead of calming things down, backed this behaviour.'

Partizan coach Marko Nikolic, who was sacked by Slovenian side Olimpija Ljubljana last April for racially abusing one of his own players, said Luiz was likely to face disciplinary action from the club.

However, he urged Serbia's football authorities to punish Rad's supporters.

He said: 'Everton should not have reacted but something provoked his outburst, didn't it?

'Both sides in the incident should be punished. These things happen in football but it is now up to the authorities to sanction the offenders. It's a return to the reality of Serbian football.'

While at Olimpija, Nikolic called the club's Nigerian striker Blessing Eleke a 'black idiot' for his over-exuberant celebration of an equalising goal, which meant his team had less time to find a winner in a 1-1 home draw with Zavrc.
Read More here!
Following the incident, Ruiz had this to say:
"I've been suffering racist abuse during the entire 90 minutes and also was upset by the home players, who supported that. They were all attacking me. I want to forget this as soon as possible. I love Serbia and the people here, that is why I cried. But please say no to racism."
Watch it all happen below!