CUTEST ANNOYINGLY LOUD POST OF THE SAY.... HAHA AWWW "GIRL SINGS FROZEN THIME SONG" WHILE GETTING SPLINTER REMOVED!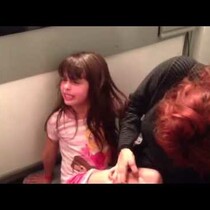 Posted March 24th, 2014 @ 3:38pm
PARENTS OF AMERICA you know this is one of the biggest movies to come from DISNEY as of late. All the little girls all over the world are singing the "LET IT GO" theme song and of course the ANNA themed "DO YOU WANT TO BUILD A SNOWMAN" song that this lil lady decided to sing to take her mind off of the pain she was feeling while mommy took out a big ugly nasty SPLINTER! So cute...and so LOUD! hahah poor baby girl..